EVENT DETAIL
Level Requirement:
Level 120 or above
NPC:
Cloud Saint (206,213) in Market
Reward:
Above 120:
Experience worth 5 ExpBalls
New Garments Only Special For CloudSaint
Demons are ruining the peace world, and thus, the Gods have decided to vanquish them once and for all. Would you like to be one of his servants against the evil demons?
Cloud Saint (206,213) is appointed by the gods to help people to conquer the demons. All those who become level 120 receive a letter from him. Take this letter and find Cloud Saint in the Market, who will exchange it for an Exp Ball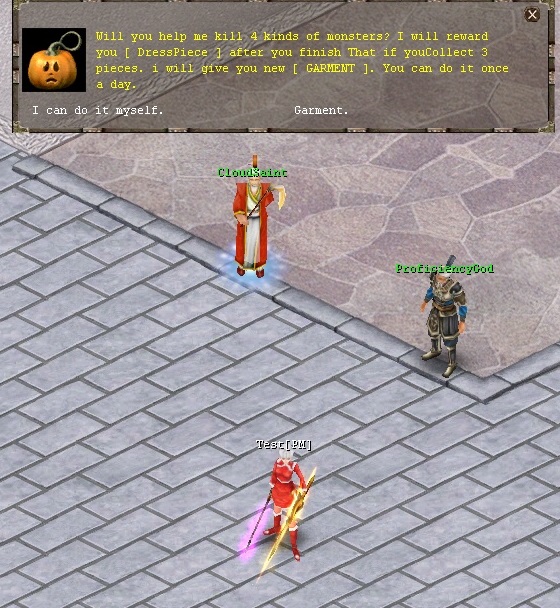 If you are above level 120, do not feel disappointed if you do not get Exp Ball from Cloud Saint. You can take the quest of Demon Exterminators everyday from Cloud Saint. After you finish the whole quest (four stages), you will be rewarded with experience worth 5 ExpBalls.
To help you conquer demons, Cloud Saint will present a Cloud Saint's Jar to you. With this, you can collect demons' souls and inquire about soul types and your kill count anytime.
Remember: you can only have one chance to take quest each day. That means:if you give up the quest, you can not take quest again in the same day.
| | |
| --- | --- |
| Stage | Kill Count |
| The first stage | 600 |
| The second stage | 1200 |
| The third stage | 1500 |
| The fourth stage | 1800 |






Only by killing all the monsters of four stages can you be rewarded with experience worth 5 Exp balls.
Note: You can only have one chance to take the quest each day even if you give up halfway.
Tips: Kill monsters with your teammates, you will share each other's kill count, but the monsters killed by your guards won't be factored in.
PS: Cloud Saint can not be dropped even if you are killed.